Business Activities
In order to achieve ideal digital engineering, IDAJ provides solutions for seamlessly embedding peripheral technologies in a product design and development process by mainly using the CAE simulation technology. Our business covers areas as diverse as concept design, detailed design, software development, and safety and reliability analysis.
IDAJ also provides co-simulation technologies applicable to any area, automation and optimization technologies, and platform environments supporting the entire digital engineering.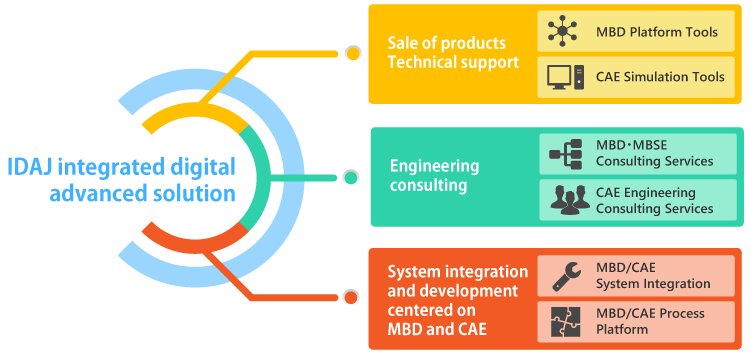 MBD Platform
To promote digital engineering, it is absolutely necessary to share information across departments and organizations and to build a design and development process with established traceability. IDAJ supports an engineering process reform by taking advantage of the engineering expertise that we have cultivated in CAE simulations.
Saving and optimization of your valuable time by automated analyze and evaluation of user requirements specifications (URS) regardless of file format and structure.
Manage all types of information in one platform in CAE model management and project progress management
Automation of engineering operations, powerful optimization functionality satisfying multiple indices simultaneously, and analysis and data mining functionality
Critical system design, software development using format language, and support for application lifecycle management
Safety and reliability analysis environment for a requirements definition phase and validation/test phase
Integrated testing environment across SILS, MILS, and HILS by coupling different types of models
IDAJ's total development capability consisting of experiences cultivated in CAE technology
Digital Engineering Platform
Enterprise MBD Platform

Aras Innovator

Aras innovator is a enterprise platform of the open architecture & subscription model which is the world first business model. The flexible customization of the small start concept enable simulation data management and optimization.

CAE Automated Process Construction System

EASA

The system integrates scattered software programs within a company and improves a usage environment for in-house codes with difficulties in inputs. This system construction framework is widely used around the world.

Requirements Management Software that allows to automatically analyze and evaluate user requirements specifications

ReqMan®

ReqMan is the only requirements management software solution worldwide that allows you to automatically analyze and evaluate your user requirements specifications (URS) regardless of file format and structure. ReqMan provides you with a constant overview of the project status, allows collaborative distribution and processing of your requirements in a team, and enables you to then pass these requirements to downstream systems, customers and partners.
RPA(Robotic Process Automation)/ Design Optimization/Machine Learning
Multi-Objective Design Optimization Tool

modeFRONTIER®

The software offers a variety of functions, including cutting-edge multi-objective optimization, post-processing and robust design methods. It enables to respond to different optimization problems and also to shorten the time in an optimization flow.

Web-based, Collaboration Environment

VOLTA

VOLTA is a web-based, collaboration environment that orchestrates simulation data and multidisciplinary business processes enabling conscious decision-making and innovative product development.
Embedded Software Development
Model-based, Embedded Software Development Platform

Ansys SCADE®

This is an integrated embedded software development environment that supports system design (Ansys SCADE Architect), development of embedded software (Ansys SCADE Suite), development of embedded display (Ansys SCADE Display) and life-cycle management (Ansys SCADE LifeCycle).
Safety and Reliability Engineering
Integrated Solution for Safety and Reliability Engineering

Ansys medini® analyze

Ansys medini analyze is all in one integrated solution for safety and reliability analysis. These analysis are required by the domain-specific standards ISO26262, IEC61508, and ARP 4754A/4761 for safety-critical E/E system. Safety analysis methods (HAZOP, FTA, FMEA, FMEDA) which conventionally used different tools can be carried out efficiently by model-based approach using system architecture model in single tool. Integrating information on a single tool ensures consistency and traceability of design information and safety analysis results. Ansys medini analyze also provide capability to analysy cybersecurity context.
MILS/SILS/HILS Platform
Multi-model Integration and Virtual Experimentation Platform

xMOD™

xMOD allows to run coupled heterogeneous models with optimized computation as well as to protect know-how in execution of the models. xMOD enables to extend MILS/SILS to HILS on the same PC.
CAE Simulations
For customers requesting an analysis and prediction of product performance using virtual products, IDAJ offers solutions by providing both a group of optimum products and a technical consultation service.
A group of products applicable to any phase of a design and development process, from concept design and requirements definition to detailed design and module design with CAD
The best track record and the engineering prowess in Japan in fields such as multiphysics, computational fluid dynamics, finite element analysis, particle simulation, electromagnetic field simulation, acoustics simulation, optimization, and system simulation.
Engineering expertise that we have cultivated through working with excellent companies in Japan and overseas
Development capability and history of discovering and nurturing many unknown outstanding software
System Simulation
Muti-Domain Simulation Platform

Ansys Twin Builder™

Ansys Twin Builder is multi-domain system simulation tool for any industries. It is not only as a 1D simulation tools, but also in combination with Ansys tools and ROM technology to expand the range of 3D simulation applications and to increase the speed and accuracy of system models. Twin Builder enables more efficient system verification.

Li-ion Battery Simulation

GT-AutoLion

GT-AutoLion is the industry-leading Lithium-ion battery simulation software used by cell designers and OEMs. It predictively models the electrochemical processes within Lithium-ion cells. Its fast and reliable electrochemical simulations are used to predict performance and life characteristics for any Lithium-ion chemistry under any operating condition. Every installation includes a comprehensive electrochemical materials database, reducing the burden for laboratory testing of electrochemical properties.

Integrated Vehicle Simulation Platform

GT-SUITE

Inside the engine, cooling and lubrication systems, valve mechanisms, vehicles, motors and transmissions, etc. From detailed component-level models to system-level integration models for the entire vehicle. This is a simulation platform that covers the entire range of applications. In recent years, the applications are not limited to automobiles, but also include ships, aerospace, power generation, industrial plants, air conditioning systems, etc. It is used in many industries.

Building Analytics and BIM process collaboration Platform

Virtual Environment

Virtual Environment (VE) is a fast, accurate, sub-hourly, thermal simulation suite that can model new and existing buildings of any size and complexity. For architects, engineers and contractors, the platform allows cross-team collaboration from concept design to operation. VE can embed energy and performance assessment across the entire building lifecycle and Integrate Performance Analysis into the BMI process.
3D Simulation
Cumputational Fluid Dynamics
Ansys Computational Fluid Dynamics Solutions

Ansys Fluent® / Ansys CFX® / Ansys Polyflow™

Ansys renowned CFD analysis tools include the widely used and well-validated Ansys Fluent, Ansys CFX and Ansys Polyflow. Because of solver robustness and speed, development team knowledge and experience, and advanced modeling capabilities, Ansys fluid dynamics solutions provide results you can trust.

Autonomous Meshing 3D CFD software

CONVERGE

CONVERGE is a thermal fluid dynamics tool with innovative grid-related capabilities. Specifically, CONVERGE automatically creates the mesh at runtime, dynamically adapts the necessary/efficient mesh throughout the simulation.
CONVERGE is widely used around the globe for IC(In-cylinder) engine market because of its state-of-the-art physical models such as turbulence, spray, and combustion, etc. In addition, CONVERGE allows you to use FSI (Fluid Structure Interaction) feature for moving solid motion application, multi-phase flow, radiation, and CHT (Conjugate Heat Transfer) model, so the applications are getting wider and wider recently, gas turbines, turbo machinery, aerospace and medical equipment areas, and so on. Thus, CONVERGE can handle complex moving problems that have never been analyzed before, and is easily applicable to "fluid force induced" moving problems. CONVERGE is dramatically changing CFD's potential.

Open Source Base General Purpose CFD Software

iconCFD

Please check the details at ICON Technologies Website, www.iconCFD.com

Comprehensive tool box for applying detailed chemistry to engineering applications

LOGEsoft

LOGEsoft is a software specialized in analyzing and simulating complex chemistry processes in engineering applications.
Examples include combustion in engines, reactive flows in catalyst systems, gasification processes and so forth.
Finite Element Method
Unified Finite Element Analysis Tool

SIMULIA® Abaqus Unified FEA

This tool, which released in 1978 and has been used at a number of companies, universities and research institutes around the world, is a unified finite element analysis (Unified FEA) program. It provides various analysis features, including nonlinear and linear analyses based on implicit methods, dynamic analysis based on explicit methods or incompressible fluid analysis.
Electronic Equipment Thermal Management
Thermal Transient tester hardware

MicReD Products

The MicReD® (Microelectronics Research and Development) family of hardware and software products enables component and systems suppliers to accurately and efficiently thermally test, measure and characterize integrated circuit packages, single and arrayed LEDs, stacked and multi-die packages, power electronics, thermal interface materials (TIMs), and complete electronic systems. MicReD was a spin-off company created by researchers at the Department of Electron Devices at the Budapest University of Technology & Economics (BME).

3D CFD Software for Electronic Equipment thermal management

Simcenter Flotherm™

Simcenter Flotherm is a thermal design support tool that can speedily create a simulation model based on semiconductor package, printed circuit board, and enclosure model or data which might be obtained from worldwide parts suppliers. The thermal design process of all companies that make up the supply chain of various electronic devices will be greatly improved by this tool.

3D CFD Software for Electronic Equipment thermal management

Simcenter Flotherm™ XT

Simcenter Flotherm XT applies a unique mesher based on the concept of "cut cell" and "multi-control volume", and can accurately generate a mesh according to the shape. This is a thermal design support tool that can perform highly accurate analysis not only on printed wiring boards and semiconductor packages, but also on mechanical parts with curved surfaces and diagonal parts.

Process Navigator for Thermal Designing

Thermocalc

Process Navigator for Thermal Designing, "Thermocalc" is an Excel-based thermal design support tool. By using this before thermal simulation, you can extract the design layout to be simulated.
Electromagnetic Filed Simulation, EMC(Electromagnetic Compatibility)
Ansys Electromagnetic Field Simulation Solutions

Ansys HFSS™ / Ansys Maxwell® / Ansys SIwave™ / Ansys Q3D Extractor®

Ansys Electromagnetic Field Simulation Solutions is a fast, cost-effective, industry-leading suite of electromagnetic field simulation software designed to predict the effects of electromagnetic fields on today's high performance electronics products.
It is possible to apply a wide range of products such as antennas, connectors, waveguides, motors, busbars, substrates, semiconductor packages and so on.
We have four softwares: Ansys HFSS, Ansys Maxwell, Ansys SIwave and Ansys Q3D Extractor.

EMI Suppression Support Tool for PCB

EMIStream

EMIStream is an EMI suppression support tool developed by NEC that can decrease undesirable EMI generated from PCB at an early design stage. EMI Design Rule Check scans your board against 15 rules and lists errors in order of priority, allowing time-efficient noise countermeasures. Power/ Ground Resonance Analysis shows you the hot spots on the board, enabling optimized capacitor placement to reduce resonance.
Major electronics manufacturers worldwide, including NASA, are using EMIStream to significantly decrease the time and cost spent on the design and evaluation process.
Particle simulation
Next Generation DEM Particle Simulator

Rocky

Rocky is an advanced engineering program that uses Discrete Element Modeling (DEM) to predict the behavior of bulk solids and aids in the efficient design and optimization of material handling equipment and processes. Rocky is capable of simulating realistic convex and concave particle shapes, particle breakage, boundary surface reduction due to wear, sticky and dry material contact laws, multiphysics, and more.
Design CAE
3D Design Exploration for Every Engineer

Ansys Discovery™

Ansys Discovery is an integrated simulation environment for designers to evaluate product performance by differences in shapes, materials and boundary conditions.
Both Ansys Discovery "EXPLORE stage", the real time simulation, and Ansys Discovery "ANALYZE stage", the high accuracy high-end solver, help rapid product innovation.

Realistic simulation in the design process

CATIA® V5 Analysis

The combination of structural analysis module of CATIA V5 allows CATIA users to efficiently incorporate the required stress or thermal solution required to solve their problem during the design process.
CATIA V5 Analysis is divided into "CATIA Design Analysis" and "SIMULIA Extended Analysis".

One Simulation Platform on-cloud for designer and expert

3DEXPERIENCE® SIMULIA®

3DEXPERIENCE® platform provides each departments of organization as engineering, marketing and sales to collaborate resolving the problems on one platform, both on-premise or on-cloud.
The simulation as 3DEXPERIENCE SIMULIA is based on Abaqus solver which has easy-to-use interface and cutting edge analysis technology, quickly searchable database, realizing an easy analysis environment.
CAD Integration / CAE Process Engineering, Materials Information Management
CAD Integration / CAE process engineering
General Purpose Post_Processing Program

Ansys EnSight®

Ansys EnSight is a general purpose post processing program which enable user to conduct wide range of CAE simulation's post process. As well as traditional post processing features such as section plot, iso-surface operation, EnSight can conduct state-of-the-art operations such as walk though features, section plot animation along with the flow path, and so on. All operations can be done via easy-of-use Graphical User Interface (GUI).

CAD Data Verification, Correction and Simplification Tool

CADfix®

CADfix is designed to ensure that CAD data can be read by other CAD and CAE software. This tool is used to fix defects and improve quality. It allows you to search for and remove unwanted shapes in CAE and simplify them as needed.

High-End 3D Virtual Design CAD

CATIA® V5

This tool configures and modifies extremely complicated curved geometries, and also handles assemblies containing an enormous number of parts with no stress on users. Thus, it is widely used in the auto, the aerospace and other industries.

High-End Mesh Morphing Program

DEP MeshWorks

The state-of-the-art morphing technology enables you to modify geometries on mesh without returning to CAD data, and design changes in a large-scale model will be quickly reflected for an analysis. It also enables coupling with other optimized design software, for example, modeFRONTIER.

A pre/post processor for iconCFD and OpenFOAM

ennovaCFD

The ennovaCFD is a pre-post processor for iconCFD and OpenFOAM(Both code is Open Source CFD). It has powerful mesher such as surface wrapper, tetra-polyhedral mesher, etc.

Multi-Physics Code Coupling Interface

MpCCI

It couples processes from different CAE software programs seamlessly. This interface enables to analyze a wide variety of physics, such as "a structure that varies its form due to fluid flow or heat" or "fluid that flows under the influence of an electromagnetic field."

Simplified Modeling Solution for Complex Analysis Problems

SimLab™

SimLab™ is a process-oriented finite element modeling softwareespecially suited for solid element modeling. A variety of very welllaid out processes are included and will accelerate your worksignificantly. SimLab allows you to quickly and accurately simulateengineering behavior of complex assemblies. Modeling tasks are automatedto reduce human errors and time spent manually creating finite elementmodels and interpreting results. SimLab is not a traditionaloff-the-shelf pre- and post-processing software but a verticalapplication development platform that captures and automates simulationprocesses.
Materials Information Management
Leading Materials Information Management

Ansys Granta MI™

Ansys offers enterprise-wide materials data management software to store, control and analyze, creating your materials' "gold-source." Granta MI is built on the foundation of Granta's trusted materials reference data.

Ansys Material Solution

Ansys Granta Selector™

Ansys Granta Selector is the smart material selection platform for all engineers who are looking for optimal product design. This tool consists of two parts which are the material encyclopedia "MaterialUniverse" supervised by Granta material specialists and a user interface that supports search, visualization, filtering and comparison of rich data such as methods, target products, costs, environmental impact, regulated substance information, etc.
Ansys Granta Selector facilitates innovation and enables you to quickly and easily solve materials problems and to evolve your products.