Business Activities
Integrated digital advanced solution
IDAJ Co., LTD. is one of the most successful CAE companies in Japan with its sophisticated engineering expertise and services. Software portfolio comprises more than 20 different CAE tools. Our diverse offer is underlined by numerous success stories and testimonials from satisfied customers and software users in the automotive, precision, energy, heavy industry and home appliances industries.
CAE Applications
IDAJ provides our customers best solution based on integrating multiple CAE technologies with our many years of consulting experiences and broad CAE engineering skill.
IDAJ has highest reputation in Japan for its broad and high engineering skills in CFD area.
IDAJ is the one can provide integrated CAE technologies approach to provide best solution.
IDAJ has many years experience working with and for large number of excellent customers in Japan.
IDAJ also has very advanced IT engineering group helps our customer to embed automate CAD/CAE, 1D/3D and data management process into their design process.
Ansys Fluid Dynamics Solutions
Ansys® Fluent®
Ansys® CFX®
Ansys® Polyflow®
Ansys renowned CFD analysis tools include the widely used and well-validated Ansys Fluent, Ansys CFX and Ansys Polyflow. Because of solver robustness and speed, development team knowledge and experience, and advanced modeling capabilities, Ansys fluid dynamics solutions provide results you can trust.
Open Source Base General Purpose CFD Software
Please check the details at ICON Technologies Website, www.iconCFD.com
3D CFD Software
The mesh is generated automatically at runtime, thus eliminating all user meshing time. And it has a rich set of physical models available for turbulence, spray and combustion to model any IC engine types include Diesel, SI, natural gas, and HCCI engines. In addition, CONVERGE allows you to use FSI (Fluid Structure Interaction) feature for moving solid motion application, and it also has various features such as VOF (Volume of Fluid) two phase flow, radiation, and CHT (Conjugate Heat Transfer) model. Thus, you can use CONVERGE as a general purpose CFD tool.
3D CFD Software for Electronic Equipment thermal management
Simcenter Flotherm™
Simcenter Flotherm™ PCB
Simcenter Flotherm™ Pack
The software helps electronics engineers/designers to resolve thermal problems and consist of three programs: Simcenter Flotherm, Simcenter Flotherm PCB and Simcenter Flotherm Pack. By combining them effectively, engineers can find and consider potential thermal problems at early design stages, speed up development time and reduce costs.
Simcenter Flotherm XT is SOLIDWORKS based CFD tools for the thermal design of electronics devices. Technologies developed in Simcenter Flotherm are integrated into SOLIDWORKS so that mechanical engineers are able to join the thermal design easier.
Multi-Objective Design Optimization Tool
Coupled with CAE software, multiple candidates for optimal solutions on the relevant trade-off curve (Pareto designs) can be automatically computed. Revolutionary data mining functions are also provided for a wide range of analyses, such as correlation among variables.
Web-based, Collaboration Environment
VOLTA is a web-based, collaboration environment that orchestrates simulation data and multidisciplinary business processes enabling conscious decision-making and innovative product development.
Integrated Vehicle Simulation Platform
This system provides a simulation platform that covers component-level detailed models, including the detailed engine, cooling/lubrication, valve train, driver, controller, vehicle, motor, battery and transmission, and can be simulated with integrated model for the entire vehicle comprehensively.
Comprehensive tool box for applying detailed chemistry to engineering applications
LOGEsoft is a software specialized in analyzing and simulating complex chemistry processes in engineering applications.
Examples include combustion in engines, reactive flows in catalyst systems, gasification processes and so forth.
Model-based, Embedded Software Development Platform
This is an integrated development environment that supports system design (Ansys SCADE Architect), development of embedded software (Ansys SCADE Suite), development of embedded display (Ansys SCADE Display) and life-cycle management (Ansys SCADE LifeCycle).
Integrated Solution for Safety and reliability Engineering
Ansys medini analyze is all in one integrated solution for safety and reliability analysis. These analysis are required by the domain-specific standards ISO26262, IEC61508, and ARP 4754A for safety-critical E/E system. Safety analysis methods (HAZOP, FTA, FMEA, FMEDA) which conventionally used different tools can be carried out efficiently by model-based approach using system architecture model in single tool. Integrating information on a single tool ensures consistency and traceability of design information and safety analysis results.
Multi-model Integration and Virtual Experimentation Platform
xMOD allows to run coupled heterogeneous models with optimized computation as well as to protect know-how in execution of the models. xMOD enables to extend MILS/SILS to HILS on the same PC.
Multi-Physics Code Coupling Interface
It couples processes from different CAE software programs seamlessly. This interface enables to analyze a wide variety of physics, such as "a structure that varies its form due to fluid flow or heat" or "fluid that flows under the influence of an electromagnetic field."
Unified Finite Element Analysis Tool
SIMULIA®Abaqus Unified FEA
This tool, which released in 1978 and has been used at a number of companies, universities and research institutes around the world, is a unified finite element analysis (Unified FEA) program. It provides various analysis features, including nonlinear and linear analyses based on implicit methods, dynamic analysis based on explicit methods or incompressible fluid analysis.
One Simulation Platform on-cloud for designer and expert
3DEXPERIENCE platform provides each departments of organization as engineering, marketing and sales to collaborate resolving the problems on one platform, both on-premise or on-cloud.
The simulation as 3DEXPERIENCE SIMULIA is based on Abaqus solver which has easy-to-use interface and cutting edge analysis technology, quickly searchable database, realizing an easy analysis environment.
General-Purpose Linear Structure Analysis Workbench
CATIA V5 and PLM Express's structure analysis modules reflect changes in a CAD geometry to a structure analysis model seamlessly and also review designs based on results from the structure analysis in the same GUI environment.
General-Purpose Nonlinear and Thermal Analysis Workbench
SIMULIA Extended Analysis
This is a new nonlinear, thermal and structure analysis solution that is fully linked to CATIA V5. This deals with products that are exposed to structural and thermal loads, or components using materials such as rubber that is inherently and highly nonlinear.
Next Generation DEM Particle Simulator
Rocky DEM is an advanced engineering program that uses Discrete Element Modeling (DEM) to predict the behavior of bulk solids and aids in the efficient design and optimization of material handling equipment and processes. Rocky is capable of simulating realistic convex and concave particle shapes, particle breakage, boundary surface reduction due to wear, sticky and dry material contact laws, multiphysics, and more.
Applications requires best practice
To work out the best practice of simulation, IDAJ helps customers to verify processes starting with design data, simulation and run through post-processing. Then we suggest the best product(s) with the best practice that can streamline the whole simulation processes.
IDAJ, as a user and also a consultancy, has been accumulating a wealth of knowledge about CAE tools and associated application experience as well as technologies. We provide the solutions based on our experience and advanced technologies.
We suggest the best practice and process to help customer to reduce man-hours.
We offer products that cover entire processes from CAD data correction through meshing, morphing, solver and post-processing.
IDAJ also provides various self-developed products, including solid modeler, pre/post-processing and task control systems.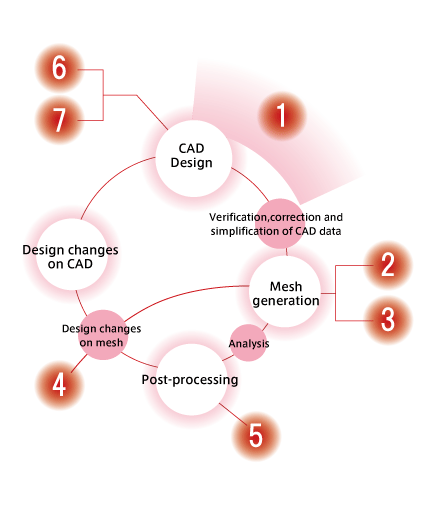 CAD Data Verification, Correction and Simplification Tool
This is a tool that fixes defects in CAD data and improves data quality for the CAD data to be surely imported into other CAD/CAE software programs. If needed, geometries unnecessary for CAE can be found and removed.
A pre/post processor for iconCFD
ennovaCFD is a pre-post processor of icon CFD, based an open source CFD software.It has a powerful mesher such as surface wrapper and tetra/polyhedral mesher and performs pre-processing such as geometry import , geometry modification, mesh generation, analysis setting and visualization ofanalysis result on the GUI.ennovaCFD makes it possible to use icon CFD with the same feeling of operation as the conventional commercial CFD tool.
Simplified Modeling Solution for Complex Analysis Problems
SimLab™ is a process-oriented finite element modeling softwareespecially suited for solid element modeling. A variety of very welllaid out processes are included and will accelerate your worksignificantly. SimLab allows you to quickly and accurately simulateengineering behavior of complex assemblies. Modeling tasks are automatedto reduce human errors and time spent manually creating finite elementmodels and interpreting results. SimLab is not a traditionaloff-the-shelf pre- and post-processing software but a verticalapplication development platform that captures and automates simulationprocesses.
High-End Mesh Morphing Program
The state-of-the-art morphing technology enables you to modify geometries on mesh without returning to CAD data, and design changes in a large-scale model will be quickly reflected for an analysis. It also enables coupling with other optimized design software, for example, modeFRONTIER.
General Purpose Post_Processing Program
Ansys EnSight is a general purpose post processing program which enable user to conduct wide range of CAE simulation's post process. As well as traditional post processing features such as section plot, iso-surface operation, EnSight can conduct state-of-the-art operations such as walk though features, section plot animation along with the flow path, and so on. All operations can be done via easy-of-use Graphical User Interface (GUI)
3D Direct Modeler
Ansys® SpaceClaim® Direct Modeler™
Ansys SpaceClaim Direct Modeler is a fast and intuitive 3-D modeling software solution that enables any analyst or engineer to create, edit and repair geometry no matter where they are in the workflow.
High-End 3D Virtual Design CAD
This tool configures and modifies extremely complicated curved geometries, and also handles assemblies containing an enormous number of parts with no stress on users. Thus, it is widely used in the auto, the aerospace and other industries.
Automate CAD/CAE platform integrated into design process
IDAJ offers platform integration and development services, which incorporate the automate CAD/CAE process in order to reduce engineering man-hour, with the best methodology and know-how into customer design system. This allows all engineers, including non CAE specialists, to use CAE in daily design process.
IDAJ has accumulated its CAE technologies and know-how over the years to help customer to build up the process with best practice.
IDAJ has gained many years experiences covers wide range of engineering applications of almost all industries.
IDAJ has large number of high skilled engineers who have deep knowledge in various CAD/CAE products.
IDAJ provides system development capabilities based on our records cultivated in the system integration for Japan's customers.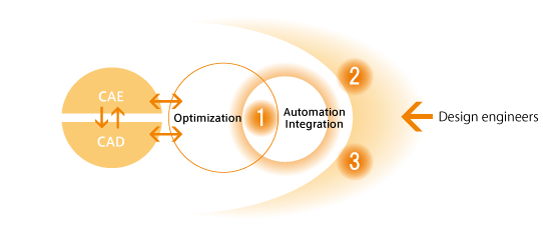 Multi-Objective Design Optimization Tool
The software offers a variety of functions, including cutting-edge multi-objective optimization, post-processing and robust design methods. It enables to respond to different optimization problems and also to shorten the time in an optimization flow.
CAE Automated Process Construction System
The system integrates scattered software programs within a company and improves a usage environment for in-house codes with difficulties in inputs. This system construction framework is widely used around the world.
Individual Development Service
When general-purpose system construction tools do not satisfy customer's requirements, IDAJ will help the customer to develop a system based on the requirements. Our development service covers a wide range of systems, including a dedicated system for specific product(s) and a multipurpose system. We will choose a suitable development environment, such as Java, VC++, C, Fortran, and VBA for each system construction.